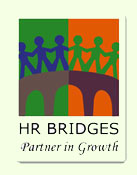 Company Profile
Founded in 2005 by Bindu Tewari Senior management professional in IT and Telecom, HR Bridges is a niche HR Consulting firm in organised recruitment and other HR services in India. Over the short span we have established ourselves amongst the best recognized recruitment brand nationally. We are the preferred recruitment partners for clients and a trusted consultant for Indian professionals, both in India and overseas.
HR Bridges' rich management experience enables us to provide special focus on middle and senior management talent needs and we recruit across various industry segments for multinational corporations as well as leading Indian business houses. Having held key HR positions in the past, the team has a thorough understanding of the people development needs of an organization and we also offer a gamut of services which include setting up of HR practice/processes, people capability assessment, identifying training needs and devising/delivering training modules especially in the area of soft skill development.
Our organisation network includes 5 offices spread across 3 major Indian cities and an international presence in the US. Our team comprises consultants who bring with them over 200 person years of experience with leading Indian and international companies. We operate through domain-specialist teams spread across the country, providing high quality talent acquisition, development & retention services.
Mission
Our mission is to provide innovative HR services to our clients in the field of Staffing, Training & HR Consulting.
Our Values
At HR Bridges we believe that our success is in partnering clients (individuals/corporate) achieve their stated goals/objectives. Our beliefs and values define what we stand for and determine how we work. The hallmark of our approach comprises:
Integrity. Our clients are demanding, their standards are high and so are ours. We honestly represent our clients to candidates and our candidates to clients. We do not promise what we cannot deliver.
Partnership. We act as an extension of our client's office. We are knowledgeable partners providing decisive and dedicated support to our clients.
Confidentiality. We accord the highest respect to information that we have been entrusted with.
Commitment. We remain committed to deliver high quality services to both candidates and clients by adequately understanding their needs.
Verticals
Technology

Telecom & Embedded

Pharmaceutical, Healthcare & Life-Sciences

Construction

Manufacturing

Automotive Industry

Legal & Patent

BFSI

Transportation

HR, Finance & Admin Support Functions

Education

ITES : Senior only

Design and Engineering

Expertise in setting up start ups